oma-Created exhibitions beneath an som cover
With scenography intended by OMA / Iyad Alsaka and Kaveh Dabiri, the Islamic Arts Biennale celebrates the opening of its initially edition in Jeddah. The sprawling 120,000 square-meters of exhibition room are sheltered beneath the cover of the Western Hajj Terminal, designed in 1981 by Skidmore, Owings & Merrill (SOM), and exhibit a combination of historical artifacts and modern day artworks.
The designers be aware their inspiration from the notion of the Qiblah, and as a result manifest as a gradual and directional journey from darkness to gentle — all inside of the Terminal's 'desert-like landscape' that 'alludes to the journey of Hijrah.' Now open to the community, the Islamic Arts Biennale runs by April 23rd, 2023.

photos © Marco Cappelletti | @_marcocappelletti
a gradual journey from darkness to light-weight
Creating the exhibition spaces for the Islamic Arts Biennale, titled Awwal Bait or 'First Property,' the architects at OMA identify two distinctive elements. The team describes the first: 'A choreographed trajectory by means of a sequence of freshly crafted galleries allows people a progressive feeling of orientation as they move from a single area to one more.
'Inspired by the thought of the Qiblah — the direction Muslims face when they pray — the displays manifest slowly in a journey from darkness to gentle, starting off in a dimly lit room loaded with 17th-century astrolabes — used to estimate the Qiblah — and concluding in the brilliant space web hosting an set up which incorporates the Initially Saudi Doorway of the Ka'bah in Makkah, put in in the course of the reign of King Abdul Aziz.'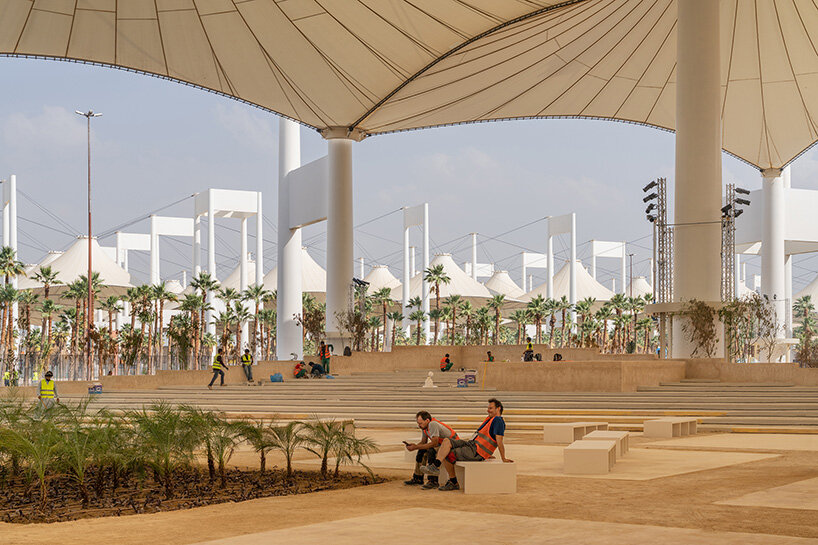 the islamic arts biennale occupies a desert-like landscape
OMA's exhibition area for the Islamic Arts Biennale upcoming celebrates the SOM-made Western Hajj Terminal. The team carries on: 'Under the terminal's cover, a desert-like landscape alludes to the journey of Hijrah — Prophet Mohamed's journey from Makkah to Madinah. Slopes and slanted partitions of numerous heights, arranged in relation to the geometry of the current framework, have been designed to show the artworks, creating a perception of exploration during the check out.
'Two freestanding pavilions act as reference points in the open up landscape, exhibiting artefacts from Makkah and Madinah. In contrast to the rough environment outside the house, the displays in the two pavilions are embedded in a shiny, diaphanous display wrapping the perimeter of the partitions.'