---
Going out: Cinema
EO
Out now
You may have heard this film referred to as "the donkey movie," which it certainly is – the protagonist is an adorable example of the species – but it's so much more: a wild, experimental exploration of the possibilities of perspective in cinema, from the Polish auteur Jerzy Skolimowski (Deep End).
The Whale
Out now
Charlie (Brendan Fraser) is a severely obese literature teacher who specialises in Melville's Moby-Dick, but the people he tutors have no idea what he looks like, as he works online with his camera switched off. Whatever you make of this as a portrait of reclusive people with compulsive eating disorders, it's a welcome return for the likable Fraser.
Saint Omer
Out now
Director Alice Diop makes her fiction debut after a string of socially conscious documentaries, with this complex courtroom drama based on a tragic 2016 French case in which a mother was convicted of murder after deliberately allowing her child to be swept away by the tide.
I Get Knocked Down
Out now
All together now: I get knocked down, but I get up again … To cinemagoers of a certain age, the eternal wisdom of Chumbawamba will remain graven into our psyches long after civilisation crumbles. Now, a quarter-century after Tubthumping, the band's Dunstan Bruce ponders his legacy in a new documentary. Catherine Bray
---
Going out: Gigs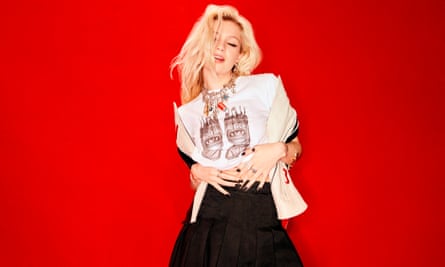 Dylan
4 to 21 February; tour starts Dublin
Suffolk's premier pop-punker heads out on a UK tour in support of recent Top 20 album The Greatest Thing I'll Never Learn. Keep an ear out for cheeky early single You're Not Harry Styles as well as the pogoing Nothing Lasts Forever. Michael Cragg
Belinda Carlisle
4 to 25 February; tour starts Cardiff
Carlisle's delayed The Decades tour celebrates her 25th year as a solo artist. Expect a focus on her run of top-tier 80s pop anthems (Heaven Is a Place on Earth, Leave a Light On), plus a smattering of tracks from 2017's eighth album, Wilder Shores. MC
Julian Siegel Jazz Orchestra
7 to 12 February; tour starts Birmingham
Sax and clarinet virtuoso Julian Siegel has been a star UK sideman and fine bandleader for years, but this glitzy jazz orchestra (including trumpeters Percy Pursglove and Henry Lowther, and saxophonist Tori Freestone), formed to play his imaginative Tales from the Jacquard suite, is his most exciting achievement so far. John Fordham
Bournemouth Symphony Orchestra
Lighthouse, Poole & livestreamed, 8 February
Kirill Karabits conducts Shostakovich's Fourth Symphony, his greatest orchestral score, preceding it with Russian and Ukrainian rarities. There's the prelude from Glazunov's suite From the Middle Ages, a Nocturne by Stravinsky's first teacher, Theodor Akimenko and the cantata St John of Damascus by Taneyev. Andrew Clements
---
Going out: Stage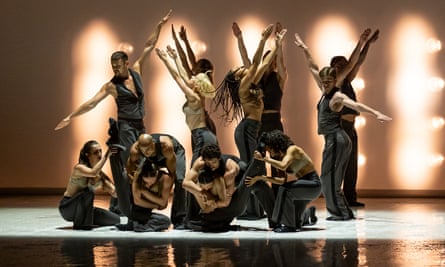 Ballets Jazz Montréal: Dance Me
8 to 11 & 14 February, Sadler's Wells, London
The Canadian company performs a tribute to Leonard Cohen, dancing to some of his greatest songs including Suzanne, Everybody Knows and Hallelujah. Cohen chose the recordings but died before the show was made. Choreography is by Annabelle Lopez Ochoa, Andonis Foniadakis and Ihsan Rustem. Lyndsey Winship
Fin Taylor
Brighton, 8 February; London, 10 February; touring to 5 May
The current era of cool comedy is, by and large, anti-offence, but there are some standups who still believe in ruffling feathers. Taylor is one of them. His show, Daddy Self-Care, drills into conversations around mental health, asking: has sensitivity spilled into self-indulgence? Rachel Aroesti
Phaedra
National Theatre: Lyttelton, London, to 8 April
Writer-director Simon Stone (Yerma) re-imagines Seneca's fierce tragedy, with Janet McTeer (Ozark) and Assaad Bouab (Call My Agent) as the doomed queen and stepson. Miriam Gillinson
Macbeth (An Undoing)
Royal Lyceum theatre, Edinburgh, 4 to 25 February
Zinnie Harris reworks Shakespeare's tragedy from Lady Macbeth's perspective, as she slides from chief schemer to troubled sleepwalker. Starring Nicole Cooper and Adam Best. MG
---
Going out: Art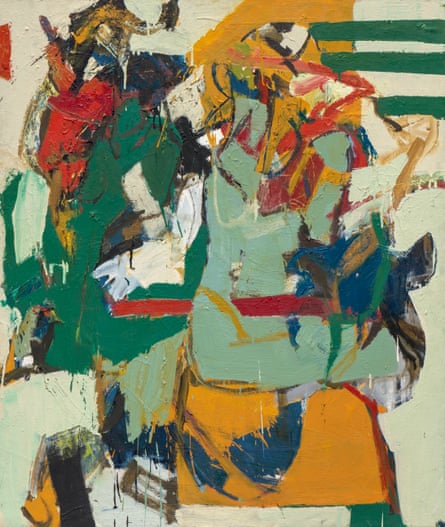 Action, Gesture, Paint: Women Artists and Global Abstraction 1940-70
Whitechapel Gallery, London, 9 February to 7 May
You thought the abstract expressionists who splashed it all over after the second world war were all American men? Think again. This revisionist survey not only foregrounds women such as Lee Krasner and Helen Frankenthaler but looks beyond the US to such artists as Mozambican-Italian Bertina Lopes and South Korea's Wook-kyung Choi.
Tudor Mystery: A Master Painter Revealed
Compton Verney, Warwickshire, 4 February to 7 May
This detective story of a show searches for the identity of a brilliant but nameless artist who worked in Renaissance England. The Master of the Countess of Warwick, as this mysterious talent is known, painted everything from razor-sharp portraits to a Caravaggio-esque scene of poker-faced Tudor noblemen playing cards.
Sue Williamson: Between Memory and Forgetting
The Box, Plymouth, 4 February to 4 June
The history of South Africa since the Boer war, public memory and the parts played by women in the struggle against apartheid are among Williamson's themes. Her photographic works document heroes of resistance, while a new sculptural work focuses attention on Emily Hobhouse, a British participant in the Boer war.
Oliver Beer
London Mithraeum Bloomberg Space, 9 February to JulyMore than 2,000 years of British pottery in all its folky ugliness and creamware splendour is turned into sound art. Beer captures the "voices" of echoing jugs with microphones. He even turns the sound waves into abstract paintings. It's the latest contemporary intervention at the site of London's atmospheric ancient Roman temple. Jonathan Jones
---

Staying in: Streaming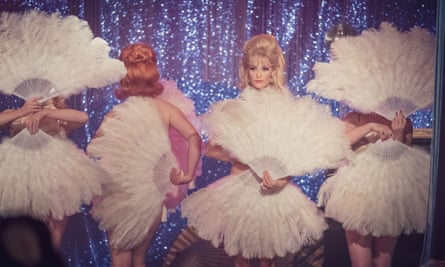 Funny Woman
9 February, 9pm, Sky Max & Now
Gemma Arterton is like an English Mrs Maisel in this adaptation of Nick Hornby's novel about a Blackpool beauty queen trying to make it as a comedian in swinging 60s London. Rupert Everett dons some eye-catching prosthetics to play the theatrical agent who becomes her mentor.
You
9 February, Netflix
This drama about a hopelessly romantic serial killer (Gossip Girl's Penn Badgley) started out as a trashy guilty pleasure before morphing into something meatier over its three seasons. Season four sees said murderer rebuilding his life in London – except this time it seems he's the one being hunted.
The Shamima Begum Story
7 February, 9pm, BBC Two & iPlayer
A feature-length accompaniment to the BBC's excellent new podcast series about the London teenager who left Britain as a teenager to join Islamic State. Josh Baker has unprecedented access to both the story and Begum herself, who is now campaigning to return to the UK after her citizenship was revoked.
Consent
7 February, Channel 4/All 4
One of the most important buzzwords of the last few years becomes a private school-set YA drama, in which peer-pressured lad Archie finds a kindred spirit in scholarship girl Natalie. Until, that is, a disturbing encounter at a house party throws up all sorts of timely quandaries about personal boundaries and the youth of today. RA
---
Staying in: Games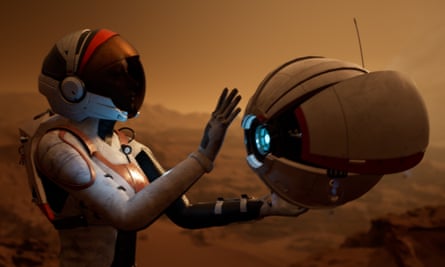 Deliver Us Mars
Out now, PC, PS4, PS5, Xbox One, Xbox Series X/S
The standalone sequel to acclaimed sci-fi adventure Deliver Us the Moon promises a similar combination of puzzle-solving, suspense and exploration as astronaut-in-training Kathy Johanson heads out to Mars to recover stolen spaceships. But what emotional baggage is she bringing along for the ride?
Fashion Police Squad
Out now, PS4, PS5, Switch, Xbox One, Xbox Series X/S
The comedy first-person shooter in which you battle crimes against fashion using whips and sewing machine guns is getting a console release after a successful run on PC. Combines retro visuals and daft humour to fabulous effect, darling. Keith Stuart
---
Staying in: Albums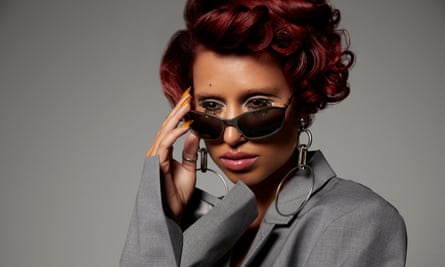 Raye – My 21st Century Blues
Out now
Now independent after extricating herself from a creatively stagnant major label deal, Raye finally releases her debut album nine years into her career. Featuring the brutally honest No 1 single Escapism and the gloriously blunt Hard Out Here, it's the sound of an artist exorcising their demons.
The Waeve – The Waeve
Out now
Occasional Blur guitarist Graham Coxon teams up with Pipette turned purveyor of elegant alt-pop Rose Elinor Dougall as the awkwardly spelt Waeve. Their meandering debut album mixes rustic folk-rock, blasts of post-punk and pockets of experimentation, all grounded by Dougall's expansive voice.
Shania Twain – Queen of Me
Out now
On her sixth album, and second since coming out of semi-retirement in 2011 following divorce and illness, country-pop purveyor Twain prioritises fun. Loved-up lead single Waking Up Dreaming skips around a dance-pop throb, while the ludicrous Giddy Up! recalls the Brad Pitt-dissing That Don't Impress Me Much.
Hifi Sean & David McAlmont – Happy Ending
Out now
Dance producer Sean Dickson, formerly of early 90s indie rockers the Soup Dragons, teams up with singer-songwriter David McAlmont for this follow-up to Dickson's 2016 opus, Ft. Recorded at the top of an east London tower block, its 13 songs carry a sense of escapism, specifically in All in the World's ecstatic dance throb. MC
---
Staying in: Brain food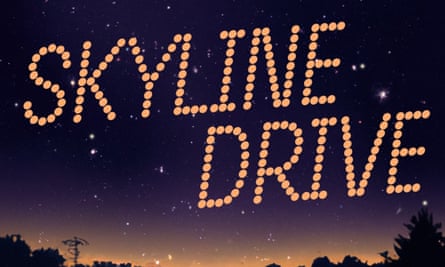 Skyline Drive
Podcast
Astrology is a field ripe for cynicism. In this entertaining series, writer Mangesh Hattikudur's scepticism is soon met by the ways in which our star signs have infiltrated everything from Nasa to foreign policy decisions.
The Charles Dickens Illustrated Gallery
Online
Michael John Goodman, an expert in Victorian illustration, has put together this delightful archive of original accompanying images from Charles Dickens's novels. Search high-quality reproductions of John Leech's energetic A Christmas Carol or Cruikshank's gloomy Oliver Twist.
Madness: The Get Up!
10 February, 11.45pm, Sky Arts
More than just a concert film, this Alexandra Palace gig from ska-pop stalwarts Madness plays with the genre to create a surreal retelling of the band's story, intercut with live performances. Friend of the group Charlie Higson narrates. Ammar Kalia