The 32nd Annual Cherry Creek Arts Festival drew 225 juried artists from around the nation to Cherry Creek North this weekend. 
Once again, East Second Avenue and the surrounding streets were lined with tents of art varying from paintings and ceramics to three-dimensional weavings and blown glass while crowds meandered from tent to tent under the warm Saturday sun. 
Fidella Brown and Debbie Finkiewicz came back to the festival this year for the first time since Finkiewicz returned from living in Maui.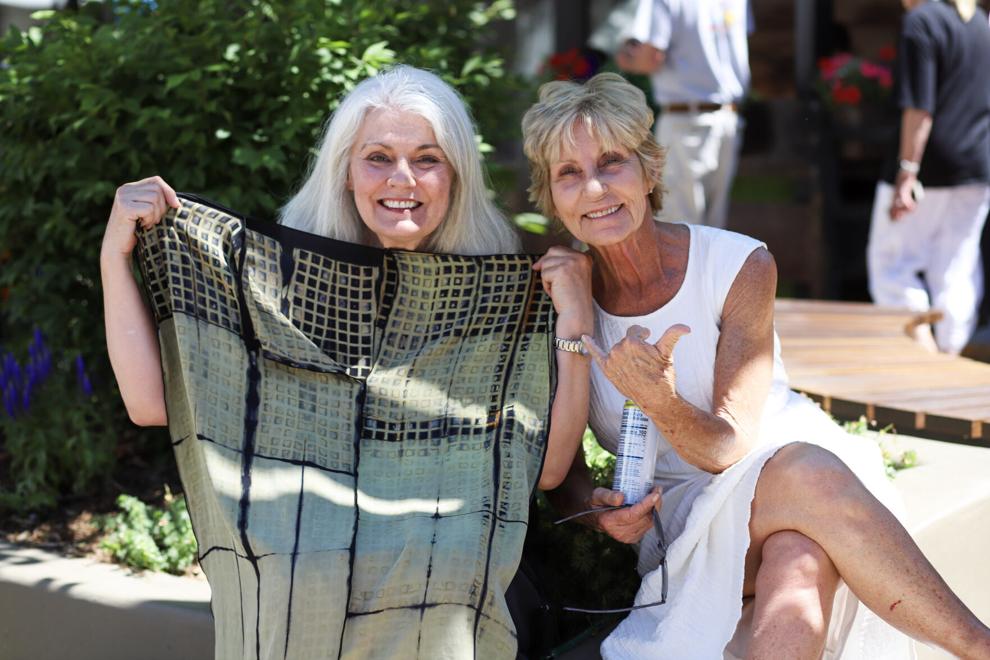 Before she moved, the two went to the festival together every year. Now, their tradition is back. 
Brown and Finkiewicz sat on a corner in the shade, taking in the festival excitement around them, petting passing dogs and enjoying each others' company. 
"We're just enjoying the beautiful, beautiful day and the wonderful artists," Finkiewicz said. 
The two have developed a strategy for the festival over the years: scouting one day, buying the next. 
On Saturday, they explored the tents of art lining the street and on Monday, they'll come back to make serious purchases. 
Brown likes to decorate her house with art from various festivals and has multiple pieces up from past years in her current home. 
While the art is expensive, it's worth it, they said.
"It's worth spending a lot of money once in a great while for a piece you'll really cherish and keep close to your heart," Finkiewicz said. 
Meet four of the festival's artists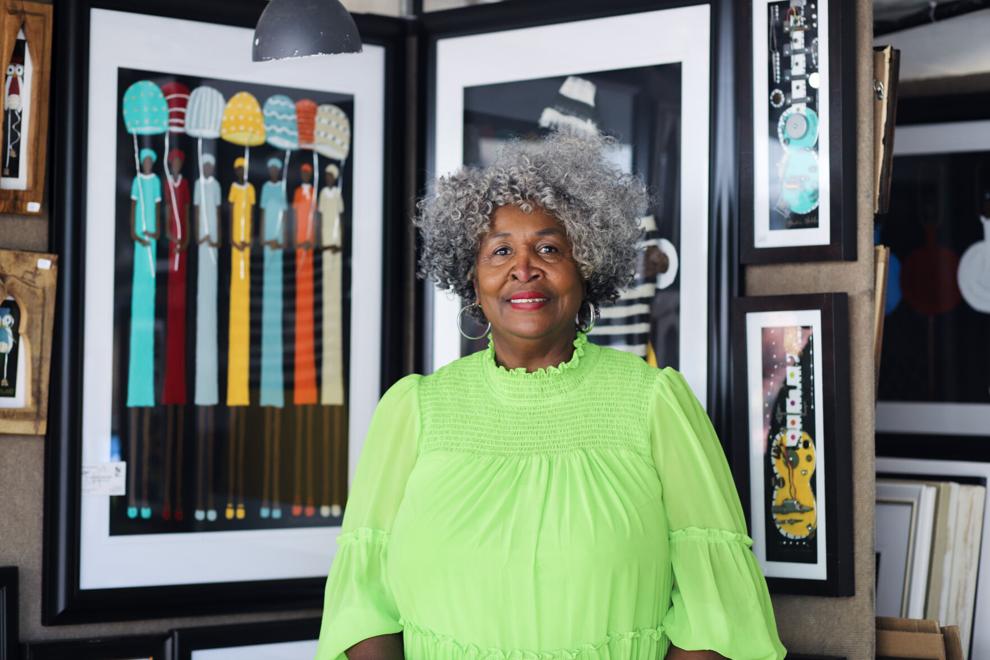 Artist Jackie Haliburton paints with acrylics and finds inspiration in people from her life and early childhood. Her paintings of people often feature people she grew up with. 
Haliburton is a self-taught artist who started drawing as a little girl and never knew it would turn into a career for her, she said, 
She hopes people look at her art and feel a sense of serenity, she said. 
"A lot of people see themselves in this art," Haliburton said. "Everywhere I go, people say it makes them smile."
Pascua Yaqui is a tribal artist from Santa Fe who has been making art since he was ten.
His art is based on traditional Native influence, but his style is more contemporary, he said. 
Yaqui paints portraits of people, all with a similar profile but different elements.
"It represents one people," Yaqui said. "I do the same profile all the way around and the differences are in the medium. I manipulate the medium differently for each one and a lot of that has to do with how I interpret that particular subject."
The heart and soul of Yaqui's art goes back centuries, he said. He tells history and honors experiences, people and objects he respects through paintings. 
"It's not too hard to pay tribute and say thank you for being there and being part of my life," Yaqui said. "I just do it in pictures."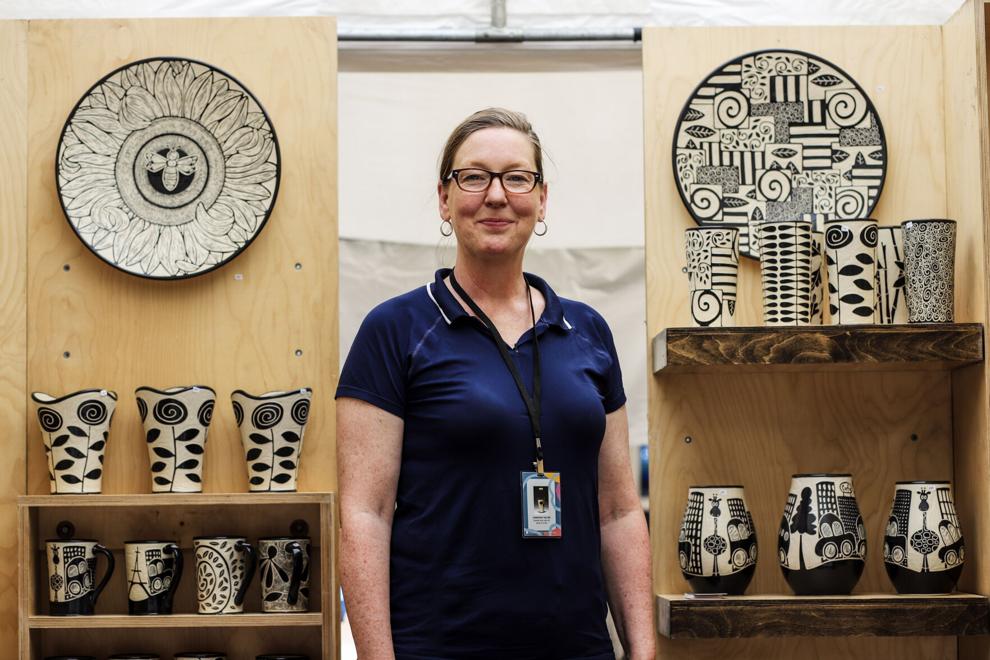 Jennifer Falter, a ceramics artist, creates art that is both decorative and functional, she said. 
"My goal is for people to use pretty things in their lives every day," Falter said. 
Falter uses the technique 'sgraffito,' Italian for 'scratched,' to carve through a layer of black porcelain over a white porcelain vessel to carve designs, she said.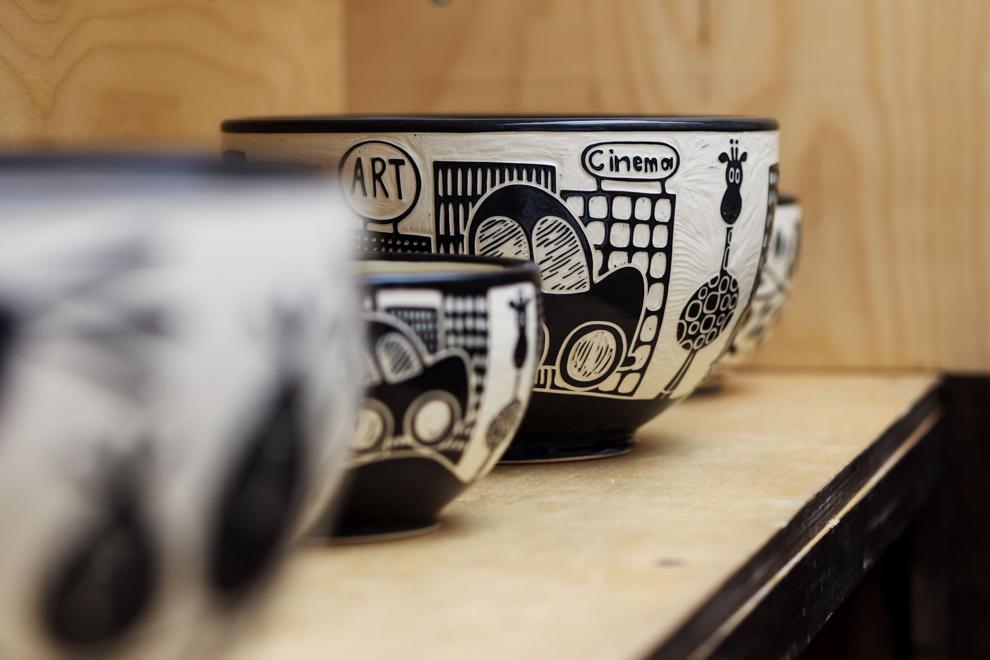 She originally took a pottery class in college to "fill a hole in her schedule," she said, but fell in love with the art. 
Her art style draws from many things, sometimes inspiration from other artists and other times a story or a favorite plant, she said. 
Martina Celerin's woven, three-dimensional weavings engage viewers by coming out at them and allowing them to go into the piece, she said. 
Celerin started out in acrylic painting and found herself gluing things to her canvases to try to make them three-dimensional. 
"It was a little frustrating for me, so at some point, I decided what I really needed to do was to make my own canvas," Celerin said. "I weave the backgrounds and then I can incorporate all these different materials, textures and yarns and things into the background and use the same materials in the foreground."
Unlike her previous acrylic paintings, the new style created a "harmony" between the background and foreground, she said.
Each weaving has a story in it, Celerin said. 
"The giant strawberry came from a time we were in Michigan and we had the first strawberries of the season," Celerin said. "When you put the first strawberry into your mouth, it's just this huge taste that's busting through your ears its so flavorful, so I needed to make a giant strawberry."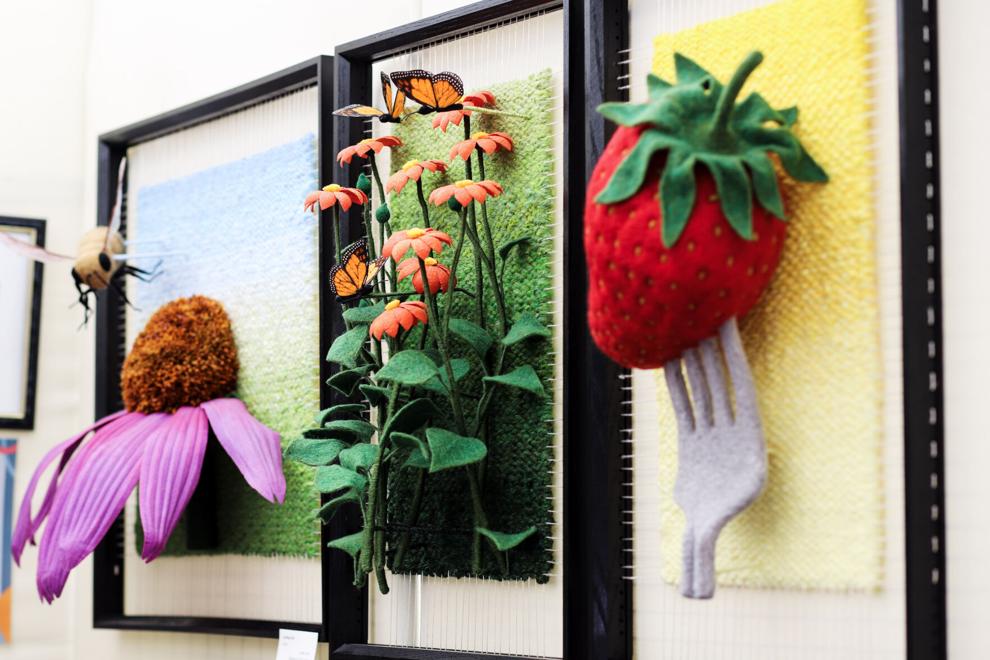 She uses recycled materials that may sometimes otherwise be thrown away to create her pieces, which pop off of the woven background and feel alive. 
The annual event is put on by CherryArts, a nonprofit organization providing access to art experiences and supporting arts education in Colorado.  
The free event continues through Monday with live music, kids' activities, plenty of art and food trucks.
Sunday hours are 10 a.m. to 8 p.m. and Monday's hours are 10 a.m. to 6 p.m. on East 2nd Avenue between Clayton and Adams streets.
On average, the festival brings in about $4.1 million in annual artist sales, according to their website. Over the years, they have featured 2,920 artist exhibitors.